When December rolls around and the hunt for holiday gifts begins, it can be difficult to come up with unique presents your friends and family members will appreciate. If you're seeking ideas for what to get the writer or book-lover in your life, you've come to the right place.
Below you'll find ten holiday gifts for writers suitable for a wide range of budgets and tastes. Have your shopping list handy – you're going to want to write these down!
This post contains affiliate links. I receive compensation if you use one of them to make a purchase.
1. Books
This one may feel a little on the nose, but bear with me. When it comes to holiday gifts for writers, you really can't go wrong with a good book.
The challenges with this gift are plentiful, however. When it comes to bookworms, there's always the concern of choosing something they're already read.
Then you have to consider personal tastes, as well as how to find a book that will show you put thought into your selection. Best-seller lists are full of good reads to be sure, but finding a gift on one is a bit of a slow ball.
If you want some more unique sources for book gifts, here are some you might try:
Check your recipient's To Read list on Good Reads.
Read publications like The New York Times Book Review.
Ask a bookseller at your local bookstore for recommendations.
Pre-order a book you know they're looking forward to.
Another option if you're feeling stuck is to gift a book subscription box. This will provide a steady stream of future reading material, and you won't have the pressure of having to select something specific.
2. Book-Themed Apparel
If you've ever looked for holiday gifts for writers online, you've probably found plenty of lists that are primarily made up of a dozen different items with books printed on them. I'll spare you the extra scrolling, but these types of presents are often nice, inexpensive picks.
Some items that fall under this category include: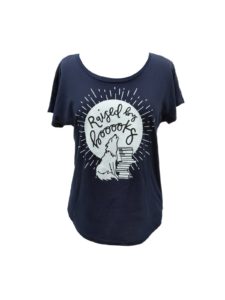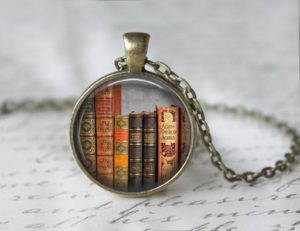 You can also find other products, such as: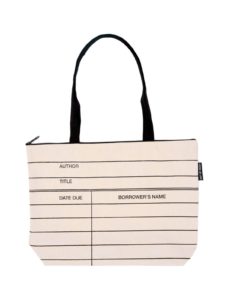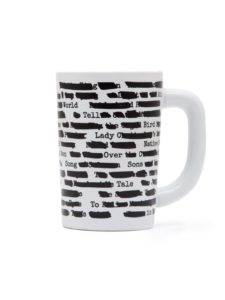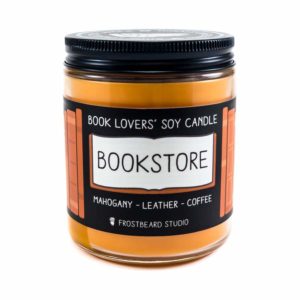 Choose something you think the writer in your life will love, or mix and match items to create a book-themed gift basket.
3. Journals
Journals are another somewhat stereotypical holiday gift for writers, but there's a reason for that. Writing by hand can help you brainstorm, plan, and work out tough spots in a story like writing on a computer can't.
Your writer friend or family member will likely appreciate a place to put down their thoughts. Plus, there are a lot of good looking notebooks out there.
4. Word-Related Board Games
Believe it or not, there are quite a few word- and story-based games out there – and I'm not talking about Scrabble. Writers and book-lovers alike may enjoy these as gifts, and you can play along with them.
Once Upon a Time is a storytelling game where each player gets to make up their own fairy tale. They have to include elements on cards they draw, and the goal is to steer the story towards a pre-determined ending. Players can take over others' narratives to turn the tables and redirect the plot:
Similarly, Nanofictionary requires each player to tell a story using randomly drawn cards. The group then votes on the best narrative:
5. A Literary Magazine Subscription
I received a subscription to Creative Nonfiction as a gift years ago. I've also had my subscription renewed as a gift, and I'm always appreciative.
Magazines aren't cheap, and rightfully so – a lot of work goes into them! When it comes to holiday gifts for writers, a subscription provides a steady stream of reading material lit lovers will adore.
If you're not familiar with the literary magazine scene, there are a few places you can discover viable candidates. Poets & Writers has a database you can check out, and this list from Authors Publish has many popular options.
6. Scrivener
A good writing app is worth its weight in gold. Scrivener includes a ton of handy features for planning, organizing, and writing all kinds of projects.
If your writer friend is still trying to finish their novel in Microsoft Word with a pile of paper scrap notes, Scrivener could be just what they need.
Check out my complete Scrivener review to learn more!
Scrivener
I've been a dedicated Scrivener user for years. I'm confident you'll love it as much as I do! Click the buttons below to find out more about this wonder app, or purchase Scrivener right away.
7. A Coffee Gift Card
A change of scenery can be quite helpful when it comes to getting some writing done. Coffee shops are popular haunts for would-be novelists, and all those lattes certainly add up.
Gift cards are often considered impersonal, but as a gifts for writers they show a certain level of thoughtfulness. Pick a local shop and a reasonable dollar amount and you'll have a top-notch present.
8. Online Writing Classes
When you're a writer, you're never done learning. There's very little that's more useful for improving your work than taking the time to learn or refresh your memory on basic skills and techniques, as well as new ones you've never tried before.
Plus, writing classes usually provide an opportunity to receive feedback on your work, which is invaluable. On top of that, it's a chance to meet other literary-minded folks, which can help you build your own little writer's group or community.
All that goes to say that writing classes can make a great holiday gift for writers – even experienced ones. Creative Nonfiction offers online courses you might want to check out, and you can also find options on popular platforms like Udemy (for freelance writers), Master Class, and more.
9. Feedback On Their Work
As I said before, feedback is priceless. You can gift it to the writer in your life in a couple of different ways, depending on your budget:
Hire a professional editor.
Read and give feedback yourself.
While hiring an editor for someone else is a very generous present, it has a couple of drawbacks. Firstly, it's going to be expensive. Depending on how the person who contract with charges for their services, it will likely be several hundred dollars.
Secondly, the relationship between a writer and editor requires careful balance. Unless you know your writer's work intimately, hiring an editor who will be a good fit is going to be difficult. And an editor who's a bad fit will make for a bad gift.
Giving your own feedback might feel like a cop out, but it's still valuable even if you're not a writer yourself. You'll be giving hours of your time and attention to your writer friend's work, and that's something a smart writer will appreciate.
10. A "Writing Retreat"
Plugging away at the same old desk day after day can be draining. Sometimes, writers need time and space away from their everyday life to focus on their work. This provides a chance to get words on the page, figure out that problem spot you're stuck on, and put aside the worries that creep in when you're at home.
A writing retreat is an incredibly thoughtful holiday gift for writers. You can also customize it to fit your budget and the needs of the writer in your life.
Some different retreats you can gift include:
However, you can also get creative and come up with your own "retreats". For instance, you can book a local Airbnb for a weekend. Or you might take care of your writer's various responsibilities (child or pet care, household chores, errands) for a few afternoons so they can go to a coffee shop or library to write.
Conclusion
There's no doubt about it – brainstorming thoughtful holiday gifts for writers isn't easy. Hopefully these ten ideas have inspired you and filled out your list.
Want to see more posts like this one? Make sure to sign up for my monthly newsletter and follow me on Instagram!
Featured Image Credit: Pexels.